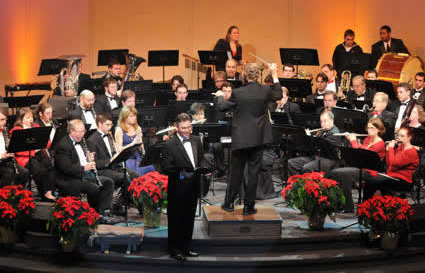 The First Coast Wind Symphony is an all-volunteer community music organization located in Jacksonville, Florida. The title "First Coast" refers to Northeast Florida, where early French and Spanish explorers settled, and home to St. Augustine, America's oldest city. The group was founded in 1990 as the First Coast Wind Ensemble and is registered as a 501c3 nonprofit organization. It is a member of the Association of Concert Bands, a national organization of community bands, and the Cultural Council of Jacksonville.
The mission of the First Coast Wind Symphony is to:
Serve as a cultural resource by providing free concerts to the Jacksonville community.
Provide an opportunity for its volunteer members to participate in a cultural service organization.
Provide an opportunity for musical expression and growth among musicians of advanced proficiency.
Continue the community concert band tradition as an important part of America's musical heritage.
First Coast Wind Symphony membership is open to any musician who completes a successful audition and agrees to the conditions of membership as stated in the bylaws. The membership consists of approximately 80 woodwind, brass and percussion instrumentalists who represent a number of different occupations, including professional musicians. The ensemble regularly performs with 50 players. Programs range from classical to popular band music, marches, chamber music and new works.
The First Coast Wind Symphony gives several concerts a year in Northeast Florida, all open to the public at no charge. It serves as an important cultural resource, dedicated to providing outstanding performances of quality wind music. The ensemble achieved national recognition after acclaimed performances in 1995 and in 2003 at the National Conventions of the Association of Concert Bands. A highlight of the 1997-98 concert season was a performance at the Southern Division College Band Directors National Association.
The group's continuing support for music education includes projects such as partner concerts with local high school bands and choruses, the sponsorship of nationally-known composers, including David Holsinger, Richard Saucedo, Robert Sheldon, James Curnow, Robert W. Smith, Ralph Ford and Samuel Hazo, family concerts featuring music for all ages, and the annual Concerto Competition for High School and Collegiate Musicians, an event open to all Florida students.
The First Coast Wind Symphony has recorded three compact discs. The first CD, titled Prevailing Winds, was produced in 2001 and featured the music of Gustav Holst, Ralph Vaughan Williams, George Gershwin, and other composers. The second disc, A Christmas Celebration, was recorded in 2007. The third CD, Symphonic Spirit, celebrates the group's 20th year. In 2012, a DVD titled Sounds of the First Coast was released that included live concert performances. For the group's 25th anniversary season, Robert W. Smith was commissioned to write a new dedicatory work, Postcards from the First Coast, which was premiered on February 21, 2015 at Jacksonville University, conducted by the composer.
For more information about the First Coast Wind Symphony, please contact Music Director Artie Clifton at aclifton@ju.edu
For audition information, or for a membership application, please contact our Personnel Manager, Angela Muller at angelamuller@fcwinds.org