The First Coast Wind Symphony and Jacksonville University are pleased to announce the FCWS 2017 Concerto Competition for High School and Collegiate Musicians. This annual young artist event is designed to promote music education in Florida by providing talented students an opportunity to perform a solo work with wind symphony.
The Concerto Competition consists of both a high school and a collegiate division. The winner from each division will be chosen through a competitive audition process. Both the high school and collegiate winners will perform with the First Coast Wind Symphony in concert on April 23, 2017 at Jacksonville University. Each winner will receive a $1,000.00 cash award from the First Coast Wind Symphony.
Eligibility
The concerto competition high school division is open to Florida high school musicians (grades 9-12) who play woodwind, brass or percussion instruments. The student must reside in the state of Florida.
The concerto competition collegiate division is open to all undergraduate woodwind, brass or percussion musicians (freshmen-senior) who are currently matriculated in a degree program at a Florida college or university. The student does not have to be a Florida resident, but must be enrolled in a Florida college or university.
Application Guidelines
Applicants must provide an unedited DVD video recording with piano accompaniment of the first or last movement of a work for their instrument, not to exceed 10 minutes. Repertoire selected by the applicant must exist as a published band arrangement. Consult the approved repertoire list provided for suggestions. Applicants may also post a video recording on YouTube. Send the link to Artie Clifton at aclifto@ju.edu.
Download the Application and Repertoire List
Application form, recording and non-refundable $25.00 application fee (check payable to First Coast Wind Symphony) must be postmarked by March 1, 2017 and sent together in one packet to: FCWS Concerto Competition Committee, Music Department, Jacksonville University, 2800 University Blvd. North, Jacksonville, FL 32211.
Applicants will be notified by March 8 regarding their selection as a finalist in the live audition.
Live auditions for both divisions will be held before a selection committee at Jacksonville University on Saturday, March 18. Finalists are required to provide their own accompanist for the audition. Finalists are not required to perform from memory.
The winner in each division will be announced by March 25. The decision of the judges is final.
---
2016 Concerto Competition Results
The winner of the 2016 Concerto Competition in the high school division was percussionist Hamza Abouelhouda. Hamza performed the first movement of the Paul Creston Concertino for Marimba and Band. Hamza is a senior at Douglas Anderson School of the Arts in Jacksonville. He is principal percussionist in the Jacksonville Symphony Youth Orchestra's Philharmonic Orchestra. Hamza won both Douglas Anderson's First Annual Concerto Competition and the JSYO Young Artist Competition. He has been accepted into the Manhattan School of Music in NY and plans to pursue a career as an orchestral percussionist.
The Concerto Competition collegiate winner was clarinetist Dillon Acey. He performed the Artie Shaw Concerto for Clarinet. Dillon is a music performance major at Jacksonville University from the Osceola County School for the Arts in Kissimmee.
Each winner received a cash prize of $1,000.00 from the First Coast Wind Symphony.
The First Coast Wind Symphony is committed to supporting music education in Florida schools.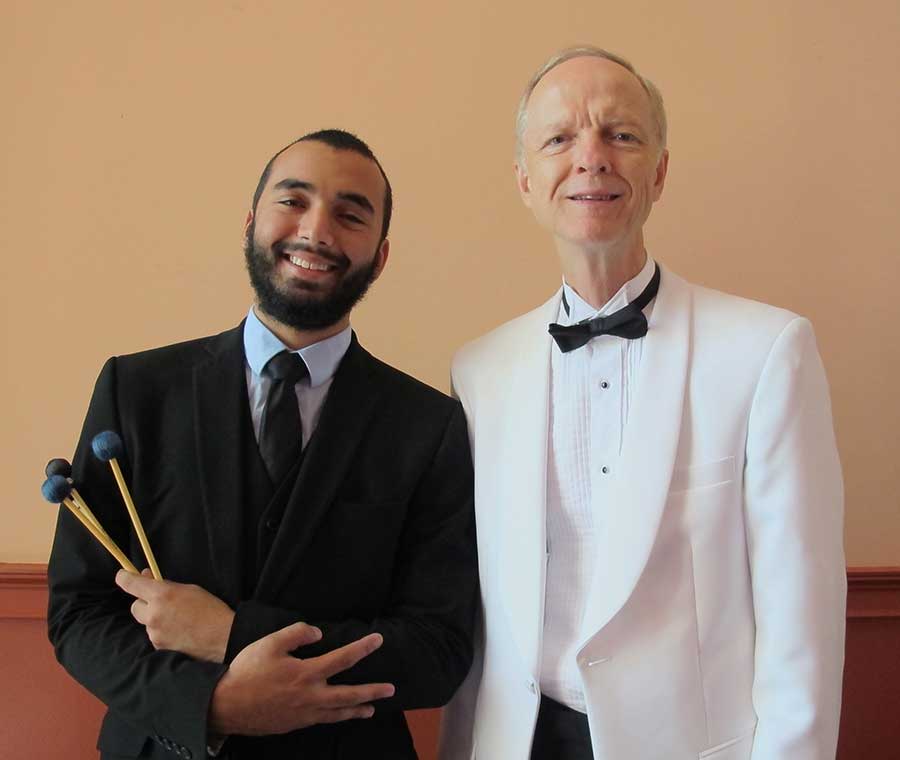 Hamza Abouelhouda with conductor Artie Clifton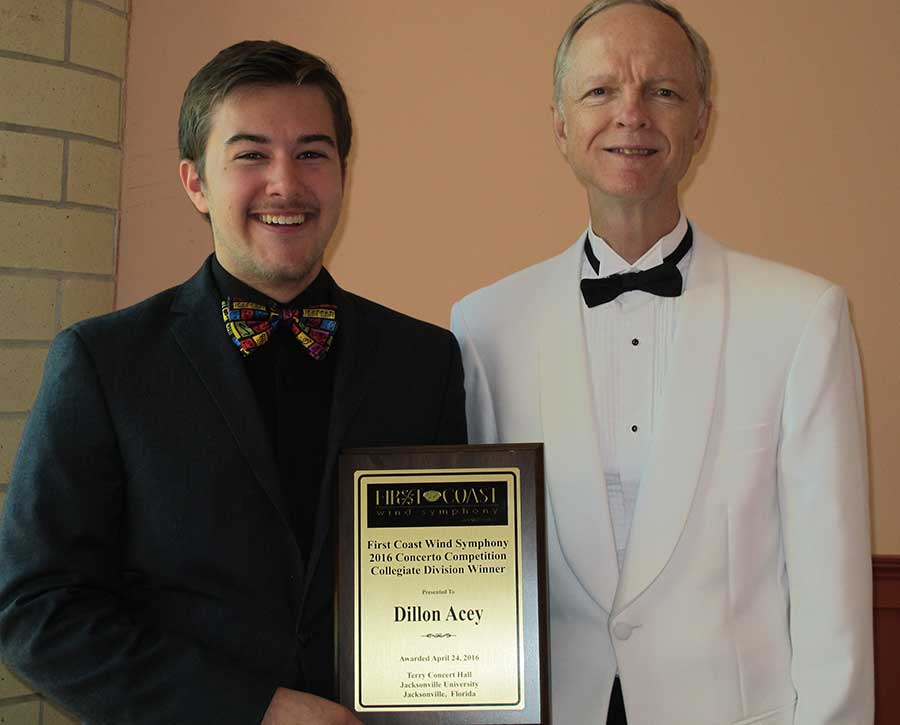 Dillon Acey with conductor Artie Clifton